Thriller
Music
Rod Temperton 1983
Composer

Rod Temperton

Born
9 October 1949

Died
1 October 2016 | Age 66
London
Rodney Lynn Temperton
(born 15 October 1947) composer, producer and musician from Cleethorpes,
Lincolnshire
,
England
, wrote the iconic title track for the
best-selling album
ever
Thriller
by
Michael Jackson
.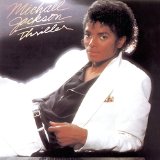 The album also holds the record for the
most weeks at No. 1
on the Billboard 200 chart:
37 weeks – Thriller, Michael Jackson, 2/26/1983.
He also wrote 'Rock With You' and 'Off the Wall'.
Career
...
Rod's career started as keyboard player with
Heatwave
also writing their hits including 'Boogie Nights', 'The Groove Line' and 'Always & Forever'.
His songwriting skills were noticed by Quincy Jones who hired him to write songs. It is reported that Quincy was surprised Rod was 'white'.
Other Temperton penned songs
George Benson - 'Give Me The Night', 'Love X Love'.
Michael McDonald - 'Sweet Freedom'.
Patti Austin & James Ingram - 'Baby Come To Me'.
James Ingram & Michael McDonald - 'Yah Mo Be There'.
Quincy Jones - 'Razzamatazz'