Marmite
Marmite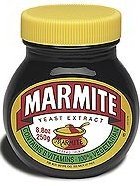 Marmite is a savoury food spread made from yeast that can also be used to flavour stews etc.
Gilmour 1902
In 1902 the Marmite Food Company (later Marmite Ltd) was set up by the Gilmour family in Burton on Trent,
Staffordshire
. It's mission to produce a concentrated savoury spread from
beer!
The Process
The basic raw material used in the manufacture of MARMITE is spent brewer's yeast, a substance whose original and only use was to ferment sugars into alcohol. For many years this by-product of the brewing process was seen as a nuisance rather than potentially valuable food source. It has been reported that Justus von Liebig, a German scientist, had found the method to extract a palatable paste from the spent yeast, but it has emerged it was created and patented in the late 1800s by a brewer's clerk called
Alfred Oxford
employed in Burton-on-Trent. The patent had lapsed so the Gilmours sought to turn the process into a business.
Feeding the Troops
The popularity of Marmite was boosted when
Vitamins
were discovered by
William Fletcher
. Yeast was discovered to be a great source of five important 'B' vitamins. As a result Marmite was included in soldiers' ration packs during
World War I
. It became a dietary supplement in prisoner-of-war camps in
World War II
and was sent to British peacekeeping forces in Kosovo to boost morale in 1999.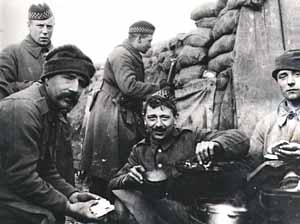 The Name
Marmite originally came in a small earthenware pot, similar to the kind of French casserole dish called a 'Marmite', (pronounced MAR-MEET). This may be where Marmite gets its name from.
Love it or Hate it
Because of the strong taste of Marmite many people think it is a meat extract, Marmite is '100% meat and fat free' so it is suitable for
vegetarians
.
If you know a fussy person who says 'Oh no, I can't stand Marmite' offer them a '
Twiglet
', most people quite happily eat a Twiglet even though they are coated in a yeast extract.
There are now many imitators but Marmite is the original.
External Link
Marmite
HP Sauce
HP Sauce was invented in England at the end of the 19th century by Mr
FG Garton
, a
Nottingham
grocer. He was down on his luck and couldn't pay his bills, so when Edwin Samson Moore, owner of the Midland Vinegar Company, offered to cancel his debt with the company and pay him £150 for the recipe, plus the use of the name HP, Garton jumped at the chance.
Moore had been looking around for some time for a sauce to manufacture and market. He liked both the taste and the name of Garton's HP Sauce, which had an appropriately patriotic ring to it. The HP stood for
Houses of Parliament
, as it was rumoured that the sauce had been seen gracing the tables of one of the dining rooms there.