Full Breakfast
Full British Breakfast 1300
Food
:
1300s
More of a
Tradition
than an invention. But this
Food
item, aka the
Fry Up
, is very British and very popular and has regional variations.
"To eat well in England you should have breakfast three times a day." W. Somerset Maugham (1874-1965)
The full breakfast is a centuries old British breakfast tradition dating back at least to the 1300's, just about when the British said goodbye to the French,
'Au Revoir'
.
Full English Breakfast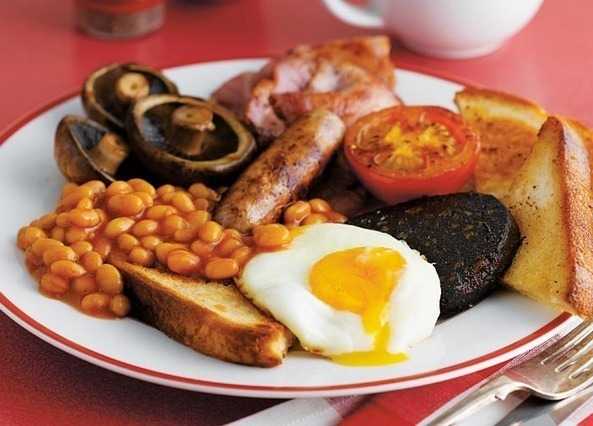 A traditional full English breakfast includes:
Bacon
Egg
Sausages
Mushrooms
Black pudding
Fried Bread or toast with butter
Tomatoes
All above fried occasionally grilled
and maybe baked beans.

All served with a mug of tea and
Brown sauce
. Sometimes 'Bubble and squeak' or hash browns.
Full Welsh
Brecwast Cymreig llawn. May include a sea influence of
laverbread
or cockles.
Full Scottish
Will have
square sausage
,
tattie scone
and
clootie pudding
(yum!).
Full Irish
Fried potato
farl
,
boxty
or soda bread.
Links
English Breakfast Society EBS