Vacuum cleaner
Hubert Cecil Booth

Born
4 July 1871
Gloucester
Died
14 January 1955 | Age 83
Croydon
Hubert Cecil Booth 1901
Vacuum Cleaner
in 1901.
Booth was born in Theresa Place, Gloucester,
Gloucestershire
,
England
moving to Belle Vue House, Spa road at the age of nine. His father, Abraham Booth, was a lumber merchant. While travelling he witnessed a demonstration at
'St. Pancras Station
' of a new cleaning machine for railway carriages. This machine had a bunch of high-pressure jets that blew air into carpets in the hope of getting the dust to fly from one side of the carriage into a dustbox on the other side.
'Booth
' asked the
'American inventor
' why he did not use suction instead of blowing. The angry inventor said that sucking dust was impossible, but Booth could not let go of his idea. On returning home he decided to test his idea by placing a wet cloth over a cushioned chair and sucking on it hard. When he turned over the cloth, it was filthy from the dust that had been trapped in it. In his own words, he had invented the 'vacuum cleaner'.
1901 and Puffing Billy
In 1901 Booth patented his vacuum cleaner and founded
'The Vacuum Cleaner Company Ltd
'. to manufacture and market it. The Head Office was in Parsons Green Lane, in Fulham, South West London. He built his first machine in 1901. It was made for Osborne House, a training college for naval officers on the Isle of Wight. The machine was parked outside and the hoses were fed through the windows. It was originally powered by an oil engine, the electric motor was added later.
The first cleaner worked out rather expensive at around £350. The bright red horse-drawn machine measured 4' 6" x 4' 10" x 3' 6" and the large suction pump was driven by a five horsepower piston engine.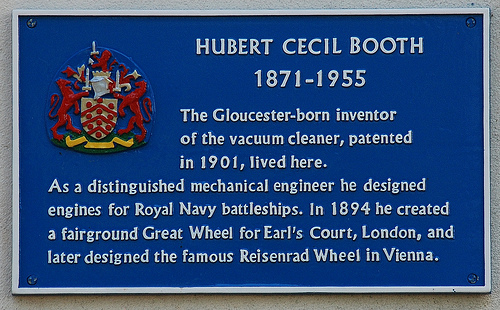 The machine toured the streets with a team of of men in white drill suits. On finding a potential customer, the salesmen demonstrated their wares by throwing street dirt onto people's carpets. The petrol motor started, and long hoses were strung in through the windows attached to a hollow container where the dirt was collected. The 'suction' was essentially similar to the 'suction' of an air compressor. Little more than surface dirt and dust were removed.
1903 by Royal Appointment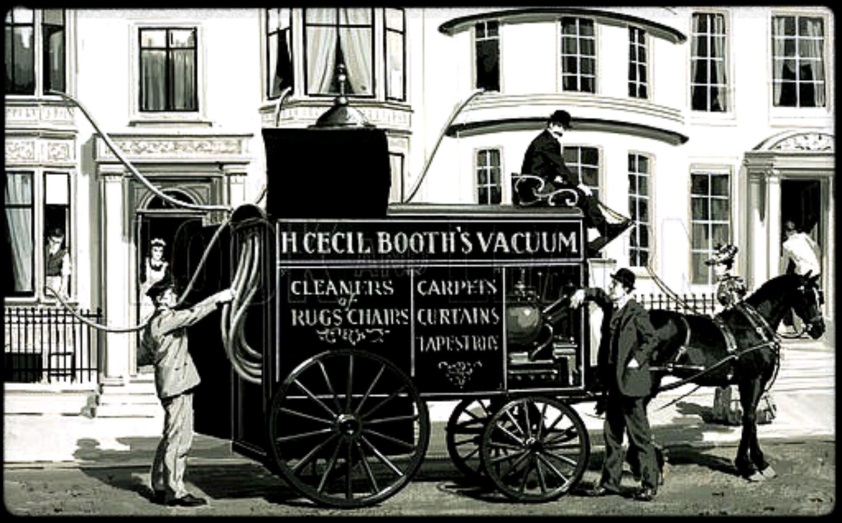 In 1903 Booth was invited to clean the carpet in
'Westminster Abbey
' in preparation for the coronation of Edward VII and Queen Alexandra.
The demonstration was successful and as a result vast vacuum-cleaning units were installed in both
'Buckingham Palace
' and
'Windsor Castle
' and the British Vacuum Cleaner Company earned the Royal Warrant of Appointment to His Majesty.
Booth's next successful demonstration of the mobile cleaner was held at the
'Royal Mint
'. On the way back to headquarters a Police van stopped them and insisted on escorting them back to the mint. They had inadvertently sucked a fair amount of
'gold
' dust into their dustbag.
World Patent
In 1903 Booth was granted world patent rights for the vacuum cleaner. This started a long round of legal battles as would-be competitors attempted to cash in on his invention, and other inventors staked their claims.
When a serious outbreak of
'Spotted Fever
' broke out among soldiers stationed at
Crystal Palace
, all conventional attempts to control the epidemic failed. Booth was called in, and
'23 tons
' of dust were removed and buried. The health of the men improved immediately.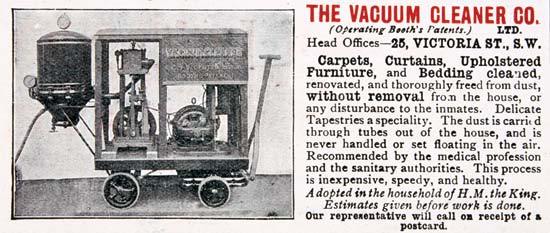 In Life
Booth married the daughter of Francis Tring Pearce, director of the Priday Metford and Co flour milling company, Charlotte Mary in 1903. The couple had two children, Francis and Edward.
Earl Court Great Wheel