Toothbrush
William Addis 1780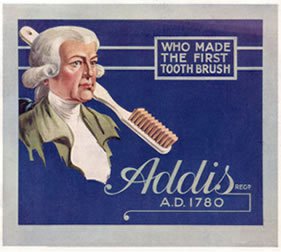 Wiiliam Addis developed the modern toothbrush in
1780.
Addis was a prisoner in jail in
1770
for inciting riots. He was a clever man, who wanted to keep himself presentable but did not like using the method at the time of rubbing a rag with soot and salt on the teeth. So by hand he carved a small brush handle from bone.
He drilled holes into the bone handle and inserted boar bristles that were held in place by wire. Addis starting mass-producing his contraption after leaving prison in Whitechapel, east
London
,
England
.
Production
His business boomed having to move premises. William died a wealthy man in 1808 leaving business to his eldest son, also called William. Addis began exporting products abroad to the US in the 1880's.
By the time WWII came along Addis employed 650 people and the first injection moulding machines were purchased and the first nylon toothbrush was launched (under the Wisdom brand).
It stayed in family ownership until 1996 under the name
Wisdom Toothbrushes
. The company now manufactures 70 million toothbrushes per year in the UK.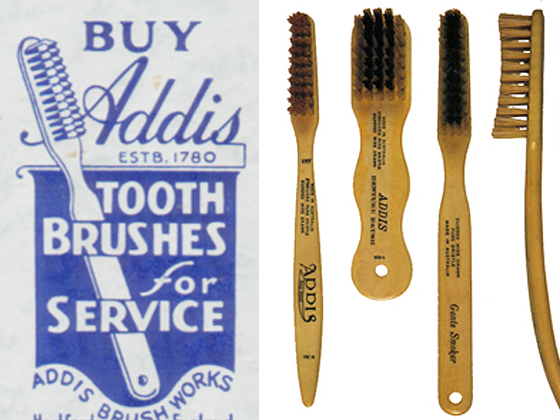 Nylon era
By
1938
the first toothbrush with nylon fibres was produced, which proved sturdier and more efficient than bristles. But in the
United States
it wasn't until soldiers returned home from World War II indoctrinated with military hygiene habits that brushing one's teeth regularly became a widespread practice.
In history
Previous to the manufactured toothbrush indigenous people have used, and still use, things like miswak from the twigs/roots of the
Salvadora persica
tree or similar to clean teeth.
Links
Addis company
Tags:
Hygiene
teeth
dentures
clean
brush