Rotating Boat Lift
Industry
Falkirk Wheel 2002

The Falkirk Wheel in
Scotland
is the World's Only Rotating Boat Lift.
The Falkirk Wheel is an exceptional feat of modern engineering. It was inaugurated in
May 2002
and connects the Union Canal, which is 79 feet above the level of the Forth and Clyde Canal.
Prior to the wheel's construction, the two canals were linked by a flight of 11 locks over 115 ft difference in height, it required 3,500 tonnes of water per run and took most of a day to pass through the flight.
Design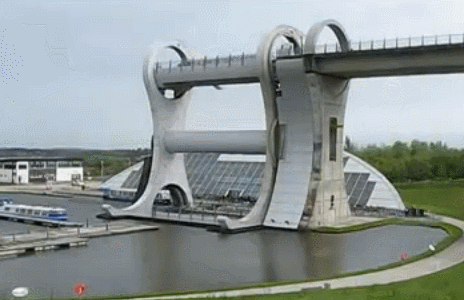 The wheel, designed by British architect Tony Kettle, has an overall diameter of 115 feet and consists of two opposing arms taking the shape of a Celtic-inspired, double-headed axe. The two gondolas are 21 feet wide, and can hold up to four 66 feet long canal boats.
The boatlift is so finely balanced it takes just 22.5 kilowatts (30.2 hp) to power ten hydraulic motors, which consume just 1.5 kilowatt-hours per half-turn, roughly the same as boiling 8 kettles.