Intraocular Lens
Inventor

Harold Ridley

Born
10 July 1906
Kibwoth
Died
25 April 2001 | Age 94
Salisbury
Harold Ridley 1950
An innovator in eye surgery and the inventor of the
intraocular lens
(IOL).
Nicholas Harold Lloyd Ridley
was born on July 10 1906 at Kibworth Harcourt,
Leicestershire
,
England
.
Eye Cataracts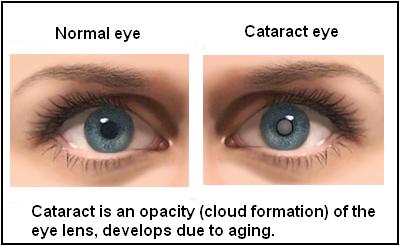 Due to age, trauma, toxic chemicals or certain diseases such as rubella or diabetes, the proteins that make up the lens become opaque which prevents light from entering the eye and causes
cataracts
.
The ancient Greeks used to deal with this condition by crudely pushing aside the lens within the eye. And until Ridleys invention there was nothing better other than removing the lens and wearing heavy spectacles.
Attempts made in the 19th century to replace the lens within the eye with a glass lens failed disastrously. As glass, which is very inert, caused reactions it was decided that such an operation was impossible, and that an artificial lens would be rejected by the body's immune system.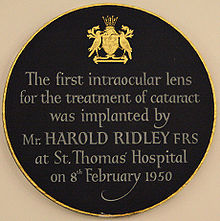 Search for an Answer
During WWII
Gordon Cleaver
, a young Battle of Britain pilot, had neglected to wear his eye protection. Gun fire shattered his cockpit canopy, and splinters of perspex had destroyed one eye and severely damaged the other.
Ridley was a member of the surgical team treating young pilots at Moorfields, and noticed the fact that, although the patient's better eye was peppered with fragments of
perspex
, there was no foreign-body reaction to it. Though lodged in the eyeball, these splinters were apparently inert, and caused no adverse reactions in the sensitive tissues of the eye.
After the War
Ridley began to work with John Pike, an optical scientist from Rayner, a lens company, in Hove,
Sussex
. He learned from Pike that
ICI
could produce a lens suitable for his purposes, and for less than £1 each. The two men agreed there and then that they would
never seek to profit
from this invention, a mark of
real
medical professionals,
service not self
.
The First Implant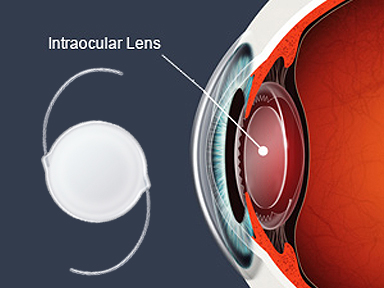 From 1946, Ridley was a consultant surgeon at St Thomas's, and on February 8th 1950, he became the first person to successfully implant an
artificial lens
. The operation was
televised
, another first, so that other ophthalmologists in the hospital could watch.
Resistance
In 1951, Harold Ridley announced the operation to an ophthalmological congress at Oxford. The news provoked
intense opposition
, especially from
Sir Stewart Duke-Elder
, who was surgeon-oculist to the
Queen
.
It was objected because
'an ophthalmic surgeon's job was to take material out of the eye, not to put it in';
and 'the operation demanded surgical skills on such a level that success would always be doubtful.'

Overseas
As early as 1952 he would fly to New York or Washington at weekends, operate there, and return to his London practice by Monday morning.
While Americans welcomed a new idea with such enthusiasm, it was so typical that the companies who made the lenses in the
USA
did not share Ridley's relaxed attitude to profits. Unlike Rayner, they set their prices
as high as possible.
Recognition in the End
Intraocular lens implant is now the
most commonly performed
eye surgical procedure.
More than 6 million lenses are implanted every year.
Ridley gave this to the world
for free
.
Ridley continued in private practice in Harley Street until he was 85. He was elected a Fellow of the Royal Society in 1986, and
knighted in 2000
.
Among the many medical honours he received were the
Gullstrand Medal
of the Swedish Medical Society, and the
Gonin Medal
from the International Council of Ophthalmologists.
At the end of the 1980s he himself had the lenses in both his eyes replaced. "I am the only man to have invented his own operation," he reflected.
Tags:
Eye
Cataracts
Intraocular
Lens
Surgery
Ophthalmologist