Fire Extinguisher
Inventor

George William Manby

Born
28 November 1765
Denver
Died
18 November 1854 | Age 88
Great Yarmouth
George William Manby 1813
Captain
George William Manby
was born 28 November 1765 in Denver,
Norfolk
. In
1813
Manby invented and patented the "
Extincteur
", the first portable pressurised fire extinguisher.
Design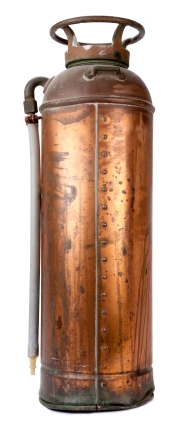 Manby witnessed firemen struggling to put out a blaze on the top floors of a house fire in Edinburgh.
It consisted of a copper vessel of 3 gallons (13.6 litres) of pearl ash (potassium carbonate) solution contained within compressed air.
Earlier
The first fire extinguisher, of a sort, was patented in 1723 by
Ambrose Godfrey
from
England
. His idea was more of a 'sledge hammer' approach.
It consisted of a cask of fire-extinguishing liquid containing a pewter chamber of gunpowder. This was connected with a system of fuses which were ignited, exploding the gunpowder and scattering the solution. The idea of the device was to a limit the extent of the fire.