Bob Hope
Bob Hope

Born
29 May 1903
Eltham, London
Died
27 July 2003 | Age 100
California
Entertainment
Bob Hope 1903
Comedian, actor, singer, dancer, athlete, and author. Hope appeared in over 70 films.
Leslie Townes "Bob" Hope
was born at 44 Craigton Road, Eltham, a suburb of South
London
,
England
, on 29 May 1903.
London England 1903
His father William Henry Hope was English and a stonemason from Weston-super-Mare, Somerset, and his Welsh mother, Avis Townes, was a light opera singer from Barry. They married in April 1891 and lived at 12 Greenwood Street, Barry Wales. Then moving to Bristol and London.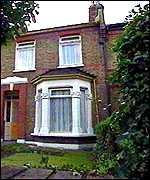 Emigrated
The Hope family emigrated to the United States in 1908 aboard the
SS Philadelphia
passing through Ellis Island on March 30,
1908
, then moving on to Cleveland, Ohio.