Automatic Kettle
Russell Hobbs 1955
William (Bill) Russell
(1920-2006) and
Peter Hobbs
(1916 - 2008) produced the first automatic electric kettle in 1955.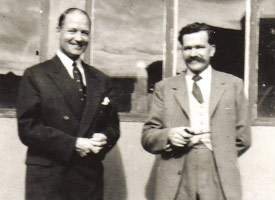 Hobbs had gone into business with Russell in 1952, designing and manufacturing a coffee percolator that - for the first time - kept coffee hot, and also producing an automatic tea-maker to rival the Goblin Teasmade.
The K1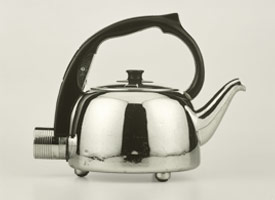 Their first automatic electric kettle, the vapour-controlled K1, appeared in 1955 and was superseded by the more elegant K2, a modestly curvaceous design originally produced in spun copper and polished chrome.
1955
Before this kettle was introduced in 1955, boiling water by electricity could be a hazardous affair. Not only did some early electric kettles boil the water by making it live, if the kettle was not switched off in time, it could boil dry, which at best would wreck the kettle, and at worst could cause a fire.
1960 K2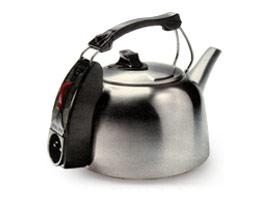 Later on, manufacturers introduced a variety of fail-safe methods to prevent this from happening. some kettles had replaceable fuses, whilst others had spring-loaded ejectors.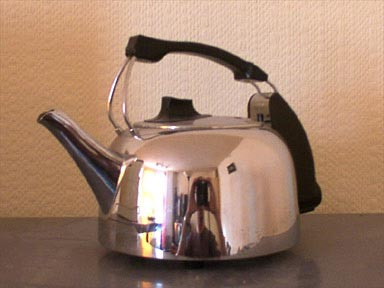 At the rear of the appliance was a bimetallic strip thermostat, and when water boiled, steam was forced through an aperture in the lid to the strip, which knocked the switch off. It was simple but ingenious. Even today examples of the K1 and K2 can be found in regular domestic use, proving it not only to be a highly popular design, but a most durable one as well.
Working combination
Inventor

Peter Hobbs

Born
3 May 1916
Wells Kent
Died
11 April 2008 | Age 91
Peter Wallace Hobbs was born on May 3 1916 at Langton Green, near Tunbridge Wells
Kent
,
England
, and educated at the Skinners' school, where he was keen on drama. Working from a rundown factory at Croydon, Russell took charge of developing new products while Hobbs concentrated on sales.
Tags:
Kettle
Automatic
kitchen
appliance
K1
Boil
thermostat
bimetallic