TV Black and White Kiss
Granada TV 1962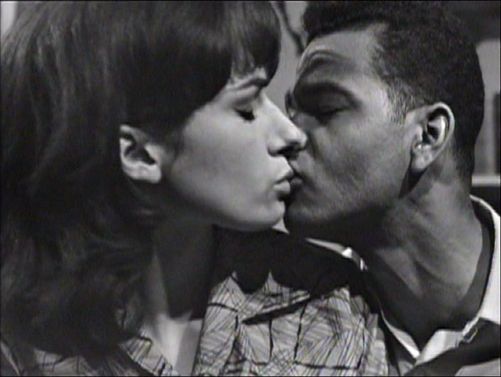 unambiguous
black and white interracial kiss was broadcast in
England
on Granada TV in 1962, starring Elizabeth MacLennan and Lloyd Reckord.
Contents
British Film Institute found a 61 year old footage of a one-off play from Granada TV. It is a drama that looks at race, class and insecurity in Britain, and contains the first interracial kiss to be shown on TV. This was six years before
Kirk
kissed Uhura in
Star Trek
and that was beaten anyway by the British drama Emergency Ward 10 in 1964.
There had been other interracial kisses on TV before this but in days of black and white (monochrome) broadcasting a clinch between perhaps a cuban and a white person was easily guised and light-skinned as to be
'racially ambiguous'
.
Synopsis
The drama was called
"You in Your Small Corner"
.
Dave Jordan has just moved to London from Jamaica to be with his mother, who runs a social club in Brixton. Mrs Jordan has ambitions for her only son and is mortified when he starts seeing Terry - not because she's white but because she's a working class Cockney.
BFI
Live Broadcast
The drama was performed and broadcast live, and the kiss is no fleeting affair either, it's a full-on snog. Viewers are left in no doubt that this is a couple in a loving come sexual relationship.