Shakespeare
William Shakespeare

Born
23 April 1564
Baptised
26 April 1564
Died
23 April 1616 | Age 52
William Shakespeare 1564
Shakespeare was born in Stratford-upon-Avon in
Warwickshire
,
England
.
An English poet, playwright, and actor, regarded as the greatest writer and dramatist in the English language.
His father, John Shakespeare, was a glove maker and wool merchant and his mother, Mary Arden, was the daughter of a well-to-do landowner from Wilmcote.
Known as the "Bard of Avon" he wrote at least 37 plays and sonnets, and established the legendary Globe theater
The Works
Tragedies
Comedies
Histories

Antony and Cleopatra
Coriolanus
Hamlet
Julius Caesar
King Lear
Macbeth
Othello
Romeo and Juliet
Timon of Athens
Titus Andronicus


All's Well That Ends Well
As You Like It
Comedy of Errors
Cymbeline
Love's Labour's Lost
Measure for Measure
Merchant of Venice
Merry Wives of Windsor
Midsummer Night's Dream
Much Ado About Nothing
Pericles, Prince of Tyre
Taming of the Shrew
Tempest
Troilus and Cressida
Twelfth Night
Two Gentlemen of Verona
Winter's Tale


King Henry IV Part 1
King Henry IV Part 2
King Henry V
King Henry VI Part 1
King Henry VI Part 2
King Henry VI Part 3
King Henry VIII
King John
Richard II
Richard III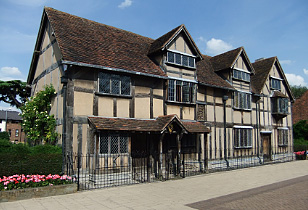 Pushing English
Shakespeare
invented
over 1700 of our common English words by changing nouns into verbs, changing verbs into adjectives, connecting words never before used together, adding prefixes and suffixes, and devising new words and coining many now-common expressions.
Tags:
Poet
Playwright
Actor