Cyclonic Vacuum Cleaner
Inventor

James Dyson

Born
2 May 1947
Norfolk
| Age 76
James Dyson 1982
Norfolk
,
England
.
In 1978, while vacuuming his home, James Dyson realized his bag
vacuum cleaner
was constantly losing suction. He noticed how dust quickly clogged the dust bag blocking the airflow, so that suction dropped rapidly. He thought he could improve this and set to work to solve this problem. Five years and 5,127 prototypes later, the world's first cyclonic bagless vacuum cleaner arrived.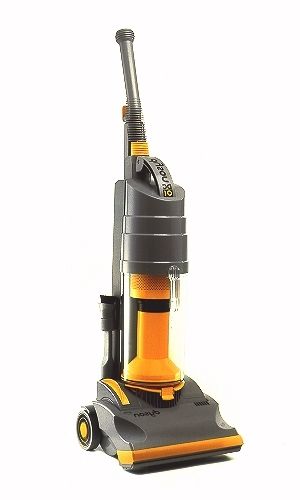 Inspiration
At a local sawmill, Dyson noticed how the sawdust was removed by large industrial cyclones using centrifugal force to separate the dust and debris, but it was only suitable in industrial settings. James wondered if he could apply this to a domestic vacuum cleaner.
Patents and Japan
James Dyson spent two years looking for someone to license his Dual Cyclone™ product. Dyson had to turn to Japan where he began to work with a company on his invention and in 1986 start to sell the G-Force. It was only available on the Japanese market and not sold under the Dyson name. James later used the money he earned from the G-Force to start up the UK Dyson company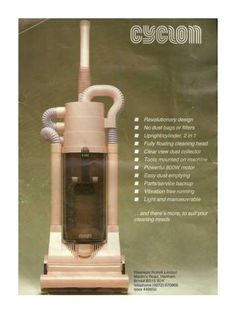 In 1992 Dyson takes out Patent # 5,090,976 (US) for Dual cyclonic vacuum cleaner. By 1995 The Dyson DC01 became the best-selling vacuum cleaner in the UK.
Competition Regrets
Hoover's vice president for Europe, Mike Rutter, said on U.K. national TV, "I do regret that Hoover as a company did not take the product technology off Dyson; it would have lain on the shelf and not been used."